JURE 2023
---
20 - 21 AUGUST 2023
---
The 27th JURE 2023 Pre-Conference invites Junior Researchers from around the world to engage in compelling discussions on educational research. JURE 2023 offers early career researchers a first academic conference experience and the opportunity to meet colleagues from across the globe.
EARLI 2023
---
22 - 26 AUGUST 2023
---
The 20th Biennial EARLI Conference is hosted by the Aristotle University of Thessaloniki and the University of Macedonia, Greece. Participants are encouraged to present results and ideas on state-of-the-art research in learning and instruction, specifically around the topic "Education as a Hope in Uncertain Times".
THEME
---
"Education as a hope in uncertain times"

We are living in times when seemingly apparent certainties appear to be challenged by phenomena such as technological advancements, rapid transformations of the labor market, 'redefinition' of human communication, migration and population mobility, socioeconomic downturns, political instability, and democratic values under dispute. Education per se is constantly changing, modifying or redefining learning and teaching environments from very early age through the life span.
 
In addition to all the above challenges, the COVID-19 pandemic that we currently experience has created unprecedented changes in human life and further increased uncertainty on a worldwide scale.
Education was highly disrupted and the learning process massively changed from face-to-face to online. Students, teachers, and parents face several challenges, in coping with these changes and in adapting to these new societal, economic, and educational settings.
 
Educational researchers are challenged to decode the increased complexity of educational processes at times of global change and uncertainty and to introduce evidence-based practices and reforms to educational policy makers. Evidence-based knowledge can bring some certainty to the uncertainty that educators, students and families currently face. Education research can bring Hope that schools (including all institutions providing education for all age groups) will be able to foster in students the skills to evaluate, critically think and acquire knowledge from various sources. Hope that schools will educate cognitively, metacognitively and motivationally active students, who can choose meaningful learning goals, plan, and monitor their learning behavior, strive towards desired goals attainment, produce novel ideas, provide creative and environment-friendly solutions. Hope that schools will promote socio-emotional competencies such as communication and collaboration skills, intercultural understanding, conflict resolution, intrinsic motivation, emotional understanding and regulation, psychological well-being, and resilience. Hope that educators themselves will be accordingly educated in our changing world so that they will be aware both of the role of societal change in their profession and of their own role in the societal change, be able to broaden their professional identity, to include new roles and responsibilities and be intrinsically motivated to build adaptive learning environments. Hope that schools will become forces for positive changes to the society.
VENUE
---
Thessaloniki is the largest academic hub and research center in Greece. Its 150K strong academic community comprises of 3 major public universities, including the largest in SE Europe, 9 international private colleges, 9 world respected science centers, 4 major incubators, the biggest ones in Greece, and a vibrant startup community.
 

---
Aristotle University of Thessaloniki (AUTh) is the largest university in Greece and SE Europe founded in 1925 (about 80,000 undergraduate and postgraduate students currently study in AUTh). AUTh is widely recognized as a vibrant center of learning and research which draws its inspiration from a long tradition of academic achievement. It is a comprehensive institution with 41 Faculties and Schools covering all scientific fields, ranging from natural and technological to social and health sciences, arts, and humanities. AUTh has a strong international profile being actively involved in European and international networks.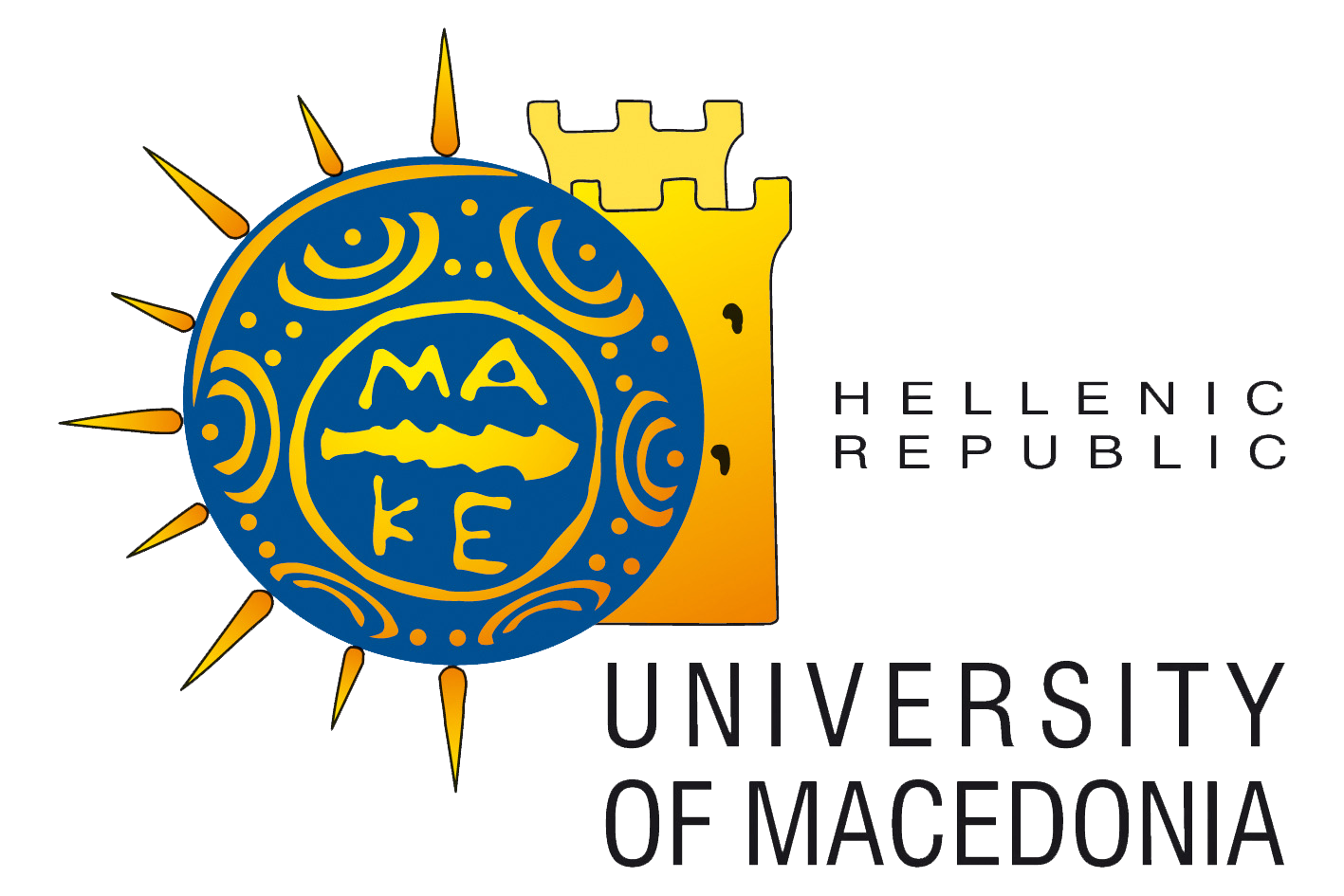 ---
University of Macedonia (UoM) comprises 8 Departments (with about 10.000 students) specializing in economic and social sciences. Now in its 7th decade of operation, UoM is developing into an extroverted, innovative, and bold academic institution whose priority is to deliver efficient teaching and research on clear and transparent quality -criteria. It is a well-organized institution, functional and environmentally-friendly, committed to the welfare of its -students, acknowledged by the local and the international community.
DESTINATION
---
Thessaloniki, Greece's second tier city and capital of the region of Central Macedonia is located on the Thermaic Gulf at the northwestern corner of the Aegean Sea. It is a lively and generous urban center that is both historic and avant-garde.
Named after the sister of Alexander the Great, daughter of Phillip II, back at the beginning of the Hellenistic times, Thessaloniki has always been the epicenter of great development and events, being a principal gateway from the Mediterranean to the Balkans and Central Europe. Throughout its history Thessaloniki has been a melting pot of diverse cultures, religions and traditions and the city's multi-cultural heritage and profile were shaped by the work and deeds of emperors, saints, apostles, philosophers and thinkers, but also by its local residents, its refugees and immigrants.
Thessaloniki, sometimes covered by the thick mist, sometimes stormed by the heady wind "Vardaris", yet always defined by its flairs and flavors, is now adays an economic, educational, and cultural center, a focal point for the Balkans and a geographic landmark between the eastern & western civilization, bridging North and South, East and West. Suffused with stories of joy and sorrow of the past, today the city enjoys a vibrant urban life, stimulated by the largest student community in Greece, the offerings of numerous museums and other cultural organisations, and enhanced by the exquisite physical location that through time has enabled openness and inspiration.
EARLI 2023 has two main local host organisations. The Aristotle University of Thessaloniki is the largest university in Greece (over 80.000 students) and is internationally recognized as a dynamic center of learning and research. The University has hosted a great number of international conferences and scientific meetings in all thematic areas very successfully. The University of Macedonia is the second university in the city of Thessaloniki specialized in economic and social sciences (over 12.000 students) and organizes various academic initiatives and events throughout the year. Both Universities have contributed Thessaloniki to become a significant academic hub in Southeast Europe, Eastern Mediterranean, and Black Sea countries.
Thessaloniki's history, academic status and contemporary identity form the context for a hospitable and exciting EARLI 2023 destination: city-centered conference venues, a walk on the waterfront, the city's atmosphere and famous gastronomy, and many more...
Visit the interactive map of Thessaloniki to get to know its most famous locations.

PAPER
Paper sessions consist of three thematically clustered paper presentations, followed by a discussion with the audience. It is important that empirical papers have data and results or they will not be accepted. Theoretical papers, which provide background research, specific evidence, analytical thinking and/or recommendations on specific themes and topics, are also welcome.
---
Paper sessions are scheduled for 90 minutes. Three presenters are given 20 minutes presentation time followed by 10 minutes for questions.

POSTER
Interactive poster sessions involve four to six posters. A short presentation of about 5 minutes for each poster is given to an audience gathered as a group. After the authors' brief presentation, an in-depth discussion between them and the audience follows. The poster sessions offer researchers the chance to present their work in a visual format and offer more opportunities for interaction and discussion.
---
Poster sessions are scheduled for 90 minutes. Four to six presenters are each offered a brief presentation slot to introduce the poster (max. 5 minutes), after which there will be time to discuss each poster in greater depth, in smaller groups.

ROUNDTABLE
Roundtable sessions offer opportunities for a more discursive exploration of research issues. This may well involve discussion of work in progress. The presenters elaborate on their emerging data and theory, and invite the participants to contribute to a discussion on potential challenges. Three presenters will explain and discuss their research one after another.
---
A roundtable session is scheduled for 90 minutes. Each presenter has five minutes to introduce his/her project and raise one or two open questions. Twenty-five minutes are intended for discussion.
REGISTER
---
Please note that membership is required to join the EARLI 2023 and/or JURE 2023 conferences. The fees mentioned below do not include your membership dues.
Registrations will open in February 2023.
| | | |
| --- | --- | --- |
|   | Early Bird Fee   | Standard Fee   |
| EARLI 2023 |   |   |
| Regular Rate | € 400 | € 470 |
| Reduced Rate    | € 280 | € 330 |
|   |   |   |
| JURE 2023 |   |   |
| Regular Rate | € 60 | € 60 |
|   |   |   |
| EARLI + JURE 2023   |   |   |
| Regular Rate | € 460 | € 530 |
| Reduced Rate | € 340 | € 390 |
The
reduced rate
applies to JURE members, Longstanding members and EARLI members currently working in low GDP countries (
consult the list of qualifying countries
). Also included in these rates are SIG Coordinators, EC members, Past Presidents of EARLI and JURE 2023 workshop leaders.
The
regular rate
applies to full EARLI members who do not meet the requirements for the reduced rate, as described above.
Conference fees include access to all conference sessions, coffee breaks and lunches and the opening reception. Fees do not include tickets for the conference dinner or a printed programme book, which can be purchased together with your conference registration.
REVIEW
---
The JURE 2023 review process will consist of one review round: each submission will be reviewed by both a senior and junior researcher simultaneously. The combined review score will determine whether or not the submission can be accepted for presentation at JURE 2023.
As such, all JURE 2023 submitters are required to sign up as a reviewer as well, which can be done easily upon completing your submission. Acting as a reviewer is mandatory to take part in the JURE 2023 submission process.
IMPORTANT DATES
---
Please consider the following important dates:
1 September 2022

Submissions Open

3 November 2022

Submission Deadline (extended)

17 January 2023

Review Deadline

1 February 2023

Registrations Open

20 February 2023

Review Results Announced

20 April 2023

Early Bird Deadline

11 May 2023

Presenter Registration Deadline

20 - 21 August 2023

JURE 2023

22 - 26 August 2023

EARLI 2023
JURE 2023 TEAM
---
Evropi Efthymiadou
JURE 2023 Conference Chair
Aristotle University of Thessaloniki, Greece
Dimitrios Moustakas
JURE 2023 Conference Chair
University of Macedonia, Greece
Annika Martin
University of Vienna, Austria
Barbara Balaž
Catholic University of Croatia, Croatia
Charleen Brand
Ruhr University Bochum, Germany
Rui Maio
University of Porto, Portugal
Sofie Van Ostaijen
Ghent University, Belgium